The Agile CPA: What lessons can a bike shop teach us about COVID-19 and the Cloud?
Before getting to biking, let's consider where we have been: do you remember this time last year?
We were heading into lockdown and an uncertain future as to how the pandemic would end.
Though it's early, we are cautiously optimistic it's a going to be a much better summer with an ahead of schedule vaccine rollouts, especially in the US. Canada currently has work to do, but there is a possibility that the US will lend a helping hand to accelerate the recovery across North America. Some are predicting this summer that could be the sequel to the roaring twenties.
But in the race to embrace the good times, will we forget the lessons learned?
For that we need to go back to about a year in a revealing survey run by Accounting Today almost a year to the day.
Not surprisingly, nearly three-quarters of the firms surveyed, felt that the pandemic was going to reduce their revenues. In terms of magnitude, 37% of those surveyed are predicting a 10%+ loss in earnings. The good news, however, is that most had not let staff go. Only 7% had laid off staff, while 4% were planning to do so.
There were also some interesting finds around the tech front.
Working Remote: Over 60% of firms had challenges with closing their offices, with nearly half of those having some challenges with the "online approach". The survey found that only 10% had no remote capabilities. See the graphic below for more details
Closing offices: Closely related to the previous result, only 13% fully shut down their office. The survey did not reveal why this was the case. But if you can't work remotely, what other choice do you have?
Communications: Although more than half used traditional means of communication, 33%were looking at new forms of communication.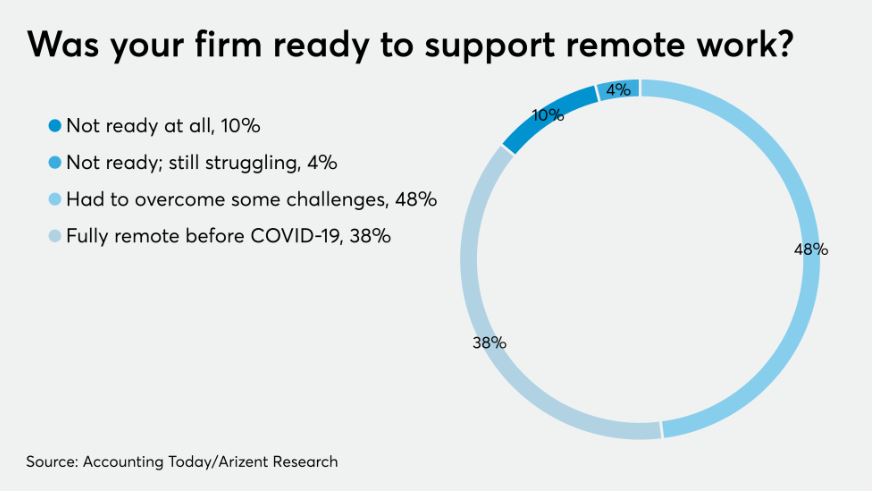 Behind the Numbers: Bike shops and the Innovative CPA
CPAs are heralded as trusted business professionals. Not just for accounting advice, but also business advice. To effectively meet the challenge of the pandemic required agile infrastructure.
And this takes us to bike shops. Like many, I started biking last summer as gyms were closed and this was an ideal way to work out. As it happens, I got a flat one day that forced me to buy some tubing. While at the bike shop, the friendly manager was explaining how business was just exploding. Why? The shop had just – prior to the pandemic – upgrade their systems to transact online.
Think about the dilemma that shop owners went through: should we really upgrade? What's the ROI? Don't people need to come in try the bike before buying?
The rationale, whatever it was, ended up paying dividends.
Similarly, those CPA firms that had, a flexible approach to manage engagements remotely were afforded a similar advantage. Take for example, virtual firms, like LiveCA, who also – like the bike shop - seem to have been well prepared for this pandemic. With no offices to speak of, the firm was online from day one. The firm was featured on this CPA Canada promotional video:
Now many firms may will continue to have offices and maintain a physical presence. However, the pandemic needs us to force to look at what is holding us back from embracing the online.
Back in the early days of cloud, there was a lot of hesitance, but the benefits of agility we apparent back then. In a publication, SMPs and the Cloud: Key Benefits & Risks, I noted the following:
"Greater enterprise agility: Internal IT often requires long lead times to implement solutions. With cloud-based solutions, the applications are already running and it is a matter of integrating that application into the existing IT infrastructure at the firm. This ability to deliver business processes faster is one of the key factors driving the adoption of cloud computing amongst organizations."
As any CPA will tell their clients, businesses should never let "cool tech" drive businesses. But it's been almost decade and now many of those risks cited have standardized approaches to address. As Eric noted in a post about championing change, certifications like SOC2 or ISO security standards are now commonplace. How else could firms like LiveCA go remote?
So, before we race into the future and forget where we've been, let's look at how innovation from yesterday and today can help us to be agile and ready for the world that lies ahead.