Say the words "financial audit" and an image of walls of banker boxes surrounding an auditor in a dark forgotten meeting room at midnight is conjured up. The traditional audit process has long been overlooked as the rest of the accounting world has benefited from new software and technology advances. For the most part, it is still a painstakingly manual process that requires a great deal of time and attention to complete.
From Auvenir's inception, we have been focused on one thing: how best to apply new technologies to transform the audit process. During our early research, we interviewed a few hundred auditors and their clients to find out what the biggest pain points are on each side. We've kept the client perspective front and centre during the development of our product as we know audit engagements impact both sides equally.
While most of the responses were not surprising (time management, productivity and cost, for example, are common issues) we did find one outstanding trend: there is an almost direct link between the top pain points auditors experience and those experienced by their clients. In other words, the same issues challenge both groups—they just see things from different perspectives. Any solution that eases auditors' lives is very likely to make clients happy as well.
Top pain points surrounding an audit
According to auditors and their clients, these are the top challenges experienced: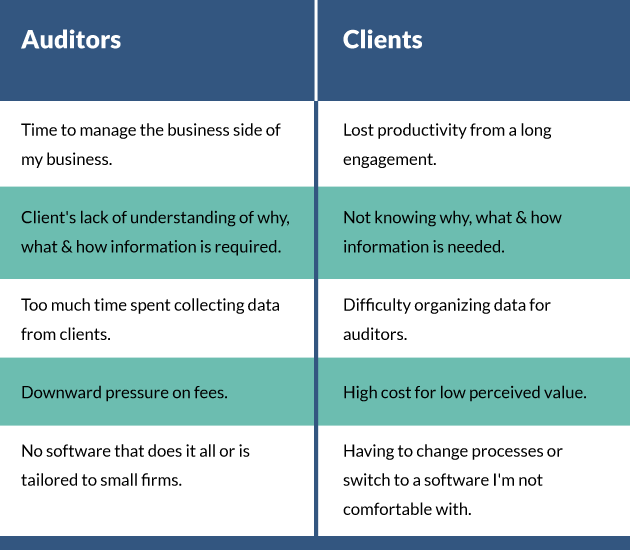 Let's take a closer look at the three biggest issues surrounding financial audit engagements.
Challenge #1: Time management & lost productivity
Time is a precious asset and it's a sure bet that it will show up in any survey of workplace frustrations. Think, for example, of a moderately complex financial audit done on a single-partner client firm in the retail or trade sector, with 20 or fewer employees and more than $1 million in annual revenue. This is a pretty standard audit, but it's going to take an average of one or two weeks to complete. That's a lot of team work hours. Now consider that the majority of firms in our sample were doing a full audit and one to two reviews per year per client. Even with a reasonable client load, this doesn't leave a lot of time for other things, including business management tasks like engaging new clients.
Clients were also not shy about their lost productivity. An audit is far outside run-of-the-mill operations for our example retail business, and the resource allocation—especially during a long engagement—can drag on operations and productivity.
Furthermore, client firms felt the cost of such services provided did not correspond to their value. Audit firms, on the other hand, face industry-wide pressure to reduce fees.
An auditing solution that relieves time and money pressures would go a long way to making the process more painless for both groups. We knew our platform would have to address these concerns with time and money saving automation (working papers, journal entries, etc.) and integration with accounting and bank interfaces. Just taking these few steps out of the process can add back days in work hours to both teams.
Challenge #2: Data collection and organization
Two separate but important findings relate to preparing for the audit itself. Clients were confused about the information needed, why it was relevant, and how to properly gather it. As auditors, we know the pain of having to explain the process, only to receive an incomplete or disorganized packet.
While client knowledge is a significant challenge for auditor firms and clients alike, data collection and organization causes specific problems. Thinking back to the retail firm in the example above, imagine you're dealing with a department that has no idea what data they need to provide. As their auditor, you set out a list of documents and data. If they are not knowledgeable about the audit process, you will likely receive a jumble of paperwork in return. While you're fretting over the time it will take to untangle the mess, your client is worried about their business.
Any good audit solution should make the lives of both the auditor and the client easier. The best-case scenario for everyone involved is a workflow solution that presents the audit process in clear, manageable steps so that you can better coordinate the effort to gather and organize the data.
We realized our solution had to provide a platform for better collaboration and faster turnaround on requirements. It must also offer the lead auditor a clear view of everyone's to-do lists to see where team members on either side might be experiencing challenges and address them quickly. We also included instant messaging on the platform to facilitate better teamwork, and make it easier for the audit and clients teams to work cohesively.
Challenge #3: Imperfect business tools
Historically, audit software catered first and foremost to larger enterprises, making it less than ideal for small to medium sized (SME) audit firms and their clients. Highly complex configurations that rely on an army of admins are not what SMEs need. The Auvenir Audit Smarter platform is designed for SMEs and their clients. We like to say we offer a "right-sized" audit because it works for any size engagement with a simple and effective workflow and collaboration portal that accommodates the specific needs of each client and audit. We've taken the best of today's technology to streamline and automate the audit process to save time, money and client relationships.
One final note, we are almost ready to launch but there's one critical step left: we need auditors to beta test this platform. And by beta test we mean test drive it like someone handed you the keys to a sports car on an empty racetrack. We need input from the experts—working auditors—to help us put the finishing touches on this very new and very cool new platform. If you want to be part of transforming your industry, or just want a look at product in action, contact our customer success team at info@auvenir.com. And follow Auvenir, a Deloitte Venture on LinkedIn.
This article was originally published on LinkedIn.